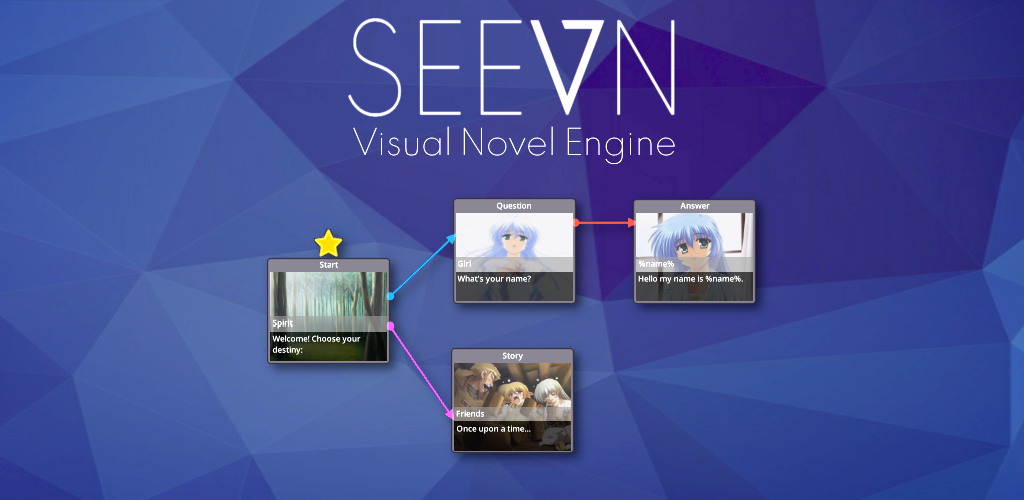 SEEVN 2 – Visual Novel Maker & Player
A downloadable editor for Windows, macOS, and Linux
NEW! Now it's possible to convert your visual novel into a single file package that includes media files, or a published app to easily share with your friends. Simply use the option "Publish" at the top menu inside the novel editor.
SEEVN is a visual novel engine (VNE) that allows artists and writers to bring dynamic stories with multiple paths to life, using an easy to understand scene node editor. Let players make their own choices, enter information and arrive at different endings. VNs can be locked from editing to protect your work. Assets are loaded from local storage or the Web. Shared stories are played in the same app.

QUICK GUIDE
▶ Watch other tutorials and projects in different languages

Basics
➣ From the home menu choose Edit Novel
➣ Click the editor workspace to relocate the tools or drag them around
➣ Select the left Add tool and click the workspace to add your first scene with a star on top
➣ Select it to edit the character's name and its dialog text
➣ Click the scene's upper middle area to load an image from local storage or the Web (supports .jpg or .png, up to 2048px)
➣ Add a new scene next to it and edit
➣ Select the upper Connection tool, click the tool until it becomes red
➣ Click the first scene then the second one to link them with a red connector
➣ Select the middle Pencil tool, then select the first scene again and hit its play button (white triangle)
➣ Now you are playing your first SEEVN visual novel!
Activities
➣ Press the top right Close button to return and continue editing
➣ Drag the workspace around and add more scenes as you wish, delete them with the right Trash tool
➣ Hit the scene's activity button (white card) to customize its behaviour and settings:
– Narration & Dialog. The red connector continues to next scene.
– Multiple Selection. Edit options' text for each connector color.
– Question. Set a variable name to store the answer.
➣ Add background sound to your scenes (supports .wav or .mp3)
➣ Hit a scene's play button again to test the story
More
➣ Remove color connectors with the Connection tool, reconnect with other scenes to change the story paths
➣ Hit another scene's empty star to set it as starting scene
➣ From the top left menu save your novel with a name that you choose, this will store a .seevn file that you can edit later
Publishing
➣ From the menu publish your novel, this will generate a single .seevnx package including media files, and it can be converted into apps for various devices and stores
➣ Exit the editor from the menu with the Home option
➣ Choose Load & Play and load your saved or published novel
➣ Safely share your published SEEVN visual novel with anyone!
Download
Click download now to get access to the following files:
SEEVN_v2_7_Linux.zip
20 MB
SEEVN_v2_7_MacOS.zip
19 MB
SEEVN_v2_7_Win32.zip
17 MB
SEEVN_v2_7_Win64.zip
20 MB
Also available on